Interview
Great interest of companies to participate in ALL4WOOD and WINDOSOV BALKANS
We are getting closer to the planned date of the ALL4WOOD BALKANS and WINDOVSHOV international events, which will be held in Belgrade from March 8 to 11, 2023, at the Belgrade Fair, and on this occasion we are talking to Fatih Ozmert, regional director of ITF doo, the organizer.
The international events ALL4WOOD and WINDOWSHOW BALKANS are unique business events with the main goal of enabling the exchange of experience and new approaches in the field of the wood industry and will be the main trading platform where manufacturers of woodworking machines and the sub-industrial sector of furniture, as well as machines and equipment for construction carpentry will who have made a serious contribution to the economy in recent years, show the quality of their products and the competitiveness that can compete with the world.
– Organization of the mentioned two renowned international fairs, ALL4WOOD – fair of the wood industry, chipboard, parquet, related furniture industry, tools and machines for woodworking and accessories and WINDOWSHOW BALKANS – fair of windows, doors, glass and equipment, the company ITF DOO enables connection and developing business with successful companies from the areas covered by these two events. Both fairs will be held on a total of 20,000 m² of closed exhibition space at the Belgrade Fair, the largest fair space in Serbia. In addition to the focus on the Balkans, our target market also includes the countries of Eastern Europe, one of the most important markets in this sector – points out Mr. Ozmert.
What is the interest of companies in participating in fairs?
– At ALL4WOOD BALKANS we reached 90% occupancy of the exhibition space in a short time, which attracted a lot of attention in the entire region. This confirms the correctness of the decision we made at the beginning and gives us hope for potential growth in the medium and long term. Exhibiting at the fair is important for companies that want to strengthen and consolidate their position, expand their operations and open new markets – says Mr. Ozmert
Why was Belgrade chosen to be the center of this important event?
– First of all, the Balkans is a serious market and center for the supply of wood industry products and woodworking machines, with 22.4 million hectares of forested areas, the export of forest products close to 50 billion euros and the export of furniture of about 30 billion. Then, the lack of a strong specialized fair in the region that would reflect the potential of the sector confirmed our decision to organize these fairs in Belgrade. We chose Serbia because it offers economic, geostrategic and sectoral advantages
What else can the ALL4WOOD BALKANS fair, besides machines, tools and equipment for the furniture and haberdashery industry, offer and what else can be seen?
– Wood cutting, dimensioning, protection and painting, grinding machines, presses and drying ovens as well as wood processing machines, and in the group of forest products will be exhibited: logs, lumber, all types of boards, plywood, parquet, veneers, laminates, edging tapes, decor papers, doors (surface, panel, frame, moldings), wall panels. All4WOOD AND WINDOSHOW BALKANS are events that give all participants and visitors the opportunity to improve their business and enrich the market with new ideas, knowledge, materials and equipment.
At the end of the interview, Mr. Fatih Ozmert recommends everyone to take the opportunity to exhibit or visit the fair ALL4WOOD and WINDOSHOW BALKANS BALKANS from 08 to 11 MARCH 2023.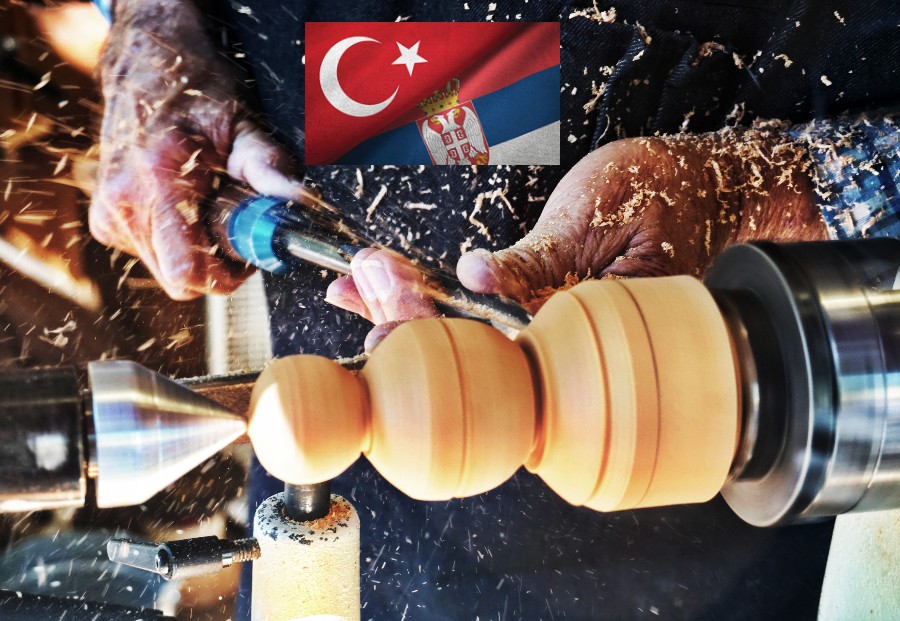 Blog
Serbia – Turkiye trade partners in the Balkan
Located in the middle of the Balkan peninsula, Serbia is among the countries that draw attention with its ethnic diversity and cultural structure. Serbia, which is one of the important commercial partners of Turkiye in both the furniture sector and the woodworking machinery sector, is expected to increase the growth rate in both sectors in the coming years.
Located in Southeast Europe at the intersection of the Pannonian Plain and the Balkans, Serbia is bordered by Hungary in the north, Croatia and Bosnia and Herzegovina in the west, Montenegro in the southwest, North Macedonia in the south, Romania and Bulgaria in the east. Belgrade is the capital and largest city of the country with a population of 7 million. Energy, automotive industry, machinery, mining and agriculture are among the strongest sectors of the Serbian economy. The main industrial exports are automobiles, furniture, food processing, machinery, chemicals, sugar, rubber, clothing and pharmaceuticals. The main trading partners of Serbia, where trade is of great importance in economic activities, are Germany, Italy, Russia, China and neighboring Balkan countries.
In Serbia's administrative system, there are counties within the statistical regions. There are 29 districts in the administrative distribution of the country. Seven of them are located in Vojvodina, eight in Shumadia and Western Serbia, nine in Southern and Eastern Serbia, and five in the Autonomous Region of Kosovo and Metohija, which are not actually included in Serbia. In addition, there are 150 municipalities in the administrative distribution of the country.
47th country in furniture export
According to the preliminary data of the CSIL Furniture Sector Report prepared by the Center for Industrial Studies (CSIL); Serbia ranked 47th in furniture production, 33rd in exports, 63rd in imports and 77th in domestic sales among the 100 countries subject to the report last year. Serbia, which produced 677 million dollars of furniture at the end of 2021, produced 569 million dollars in 2020, 597 million dollars in 2019, and 570 million dollars in 2018. Looking at the production figures in the report, it is seen that Serbia has managed to increase its production figures every year from 2012 to 2021.
Furniture export of 643 million dollars
Looking at the export data, it is seen that Serbia exports furniture worth 643 million dollars. Exporting 537 million dollars in 2020, Serbia realized 556 million dollars in 2019 and 522 million dollars in 2018. Serbia's export rates have increased every year, as have production rates. It is expected that the upward trend will continue in the coming years.
Three percent growth is expected in domestic sales
According to the CSIL Furniture Industry Report; At the end of 2021, Serbia realized furniture imports of 198 million dollars and domestic sales of 232 million dollars. Serbia, which is trying to consolidate its place in the world furniture industry, is expected to grow by three percent in 2022 and 2023 in domestic sales.
Turkiye is the fifth country that imports the most furniture
Realizing furniture imports from different countries, Serbia imported the most from China with a rate of 17.6 percent at the end of 2021. The countries that import furniture the most after China are Italy with 14 percent, Poland with 13.8 percent, Germany with 9.2 percent, Turkiye with 7.2 percent, Bosnia and Herzegovina with 6.2 percent, and 6.4 percent with Italy and Hungary with with 4.1 percent.
The most important export market is the Czech Republic
Looking at the export data in the aforementioned report, it was seen that the most important export market of Serbia was the Czech Republic with 20.8 percent. The Czech Republic was followed by Germany with 8.2 percent, Romania with 7.4 percent, Italy with 6.6 percent, France with 6.1 percent and Croatia with 5.1 percent, respectively.
In 2021, approximately 30 million dollars of machinery was imported
When the data of Serbia's woodworking machinery imports were analyzed, it was seen that the country imported a total of 29 million 463 thousand dollars in machinery in 2021. Serbia imported 17 million 589 thousand dollars of woodworking machinery in 2020 and 23 million 931 thousand dollars in 2019. Serbia produced the most saw machines in the world in 2021 with 7 million 522 thousand dollars. After saw machines, the product groups imported the most were as follows; machines in the group of others, machines that perform various machine operations without changing tools among these operations, bending or joining machines, planer, milling or die-cutting machines.
6 million dollars of machinery exports were made from Turkiye to Serbia
In 2021, Turkiye's total woodworking machinery exports to Serbia amounted to 6 million 678 thousand dollars.Turkiye exported 4 million 223 thousand dollars of machinery to Serbia in 2020, and a total of 4 million 290 thousand dollars in 2019. In 2021, Serbia imported the machines in the group of others the most with 2 million 678 thousand dollars from Turkiye. This was followed by drilling or tenoning machines with 1 million 575 thousand dollars, and machines that performed various machine operations with 889 thousand dollars without changing tools between these processes.
Blog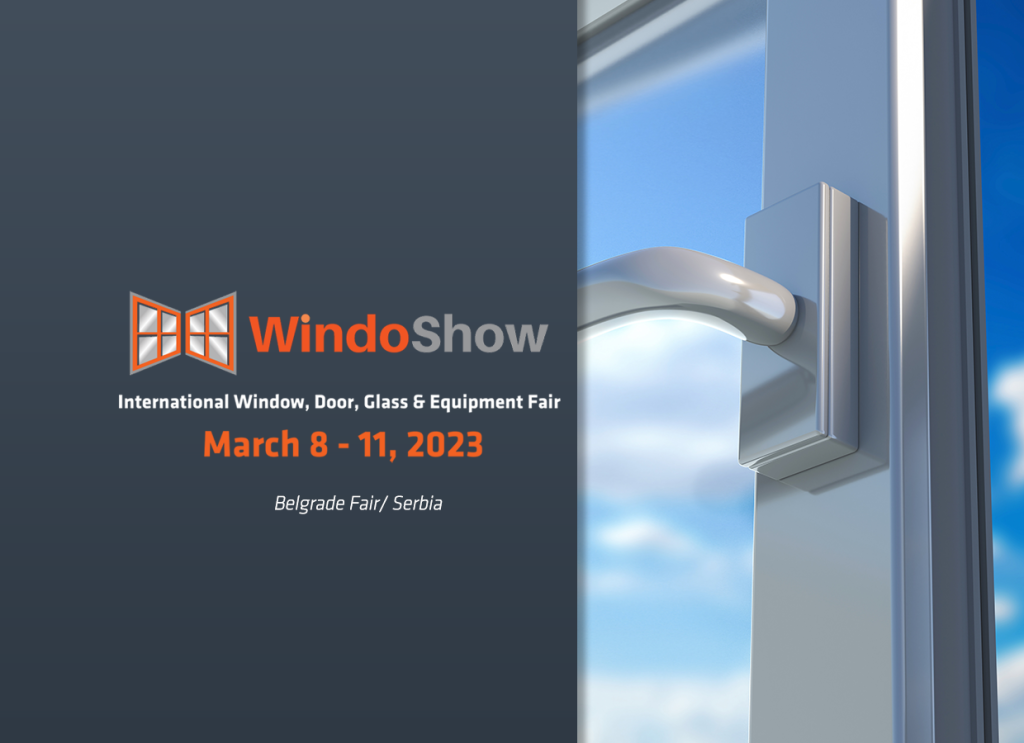 International fair of windows, doors, glass and equipment
WindoShow Balkans for the first time in Belgrade
In March 2023, the international window and door fair Windoshow Balkan will be held for the first time at the Belgrade Fair. The fair will be held in the period from March 8 to 11, 2023.
Gearing up to be the biggest trade event of the window industry in the region, Windoshow provides a major B2B presentation platform enabling unparalleded business and networking oppurtunities with key desion makers of the Balkans' construction industry in Belgrade- the breakout star of Southeast Europe.
WINDOWS
Profiles, machines for the production and processing of profiles, mechanisms, production machines and equipment, window systems
Locks and auxiliary products, raw materials, facade systems
Insulation products
DOORS
PVC & ALUMINUM
Production
Technologies
Machines,
Raw materials
GLASS
Production
Machines
Technologies
Visit the first Windoshow Balkans where more than 50 companies from the mentioned fields will be exhibiting.
For more information, visit the Windoshow Balkans website
Blog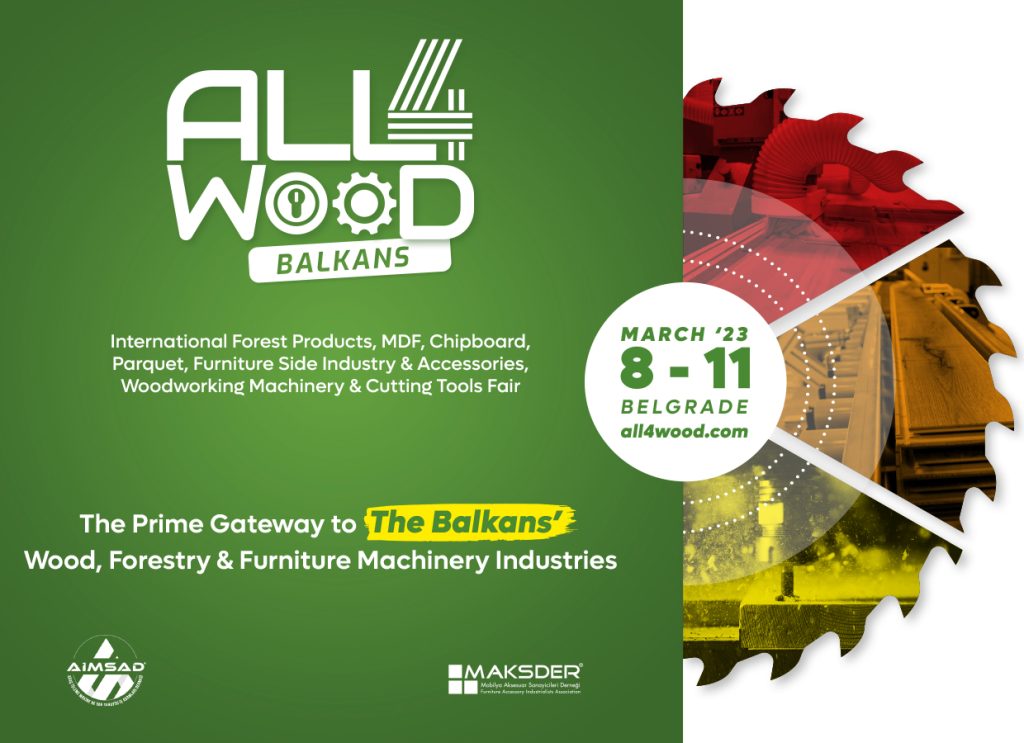 First Time in Belgrade
In March 2023, the international wood industry fair ALL4WOOD will be held for the first time at the Belgrade Fair. The fair will be held in the period from March 8 to 11, 2023.
The event will bring together numerous representatives from various sectors of the wood industry – producers of wood and MDF, chipboard, parquet, the accompanying industry of furniture and equipment, tools and machines for woodworking.
The Belgrade Fair, as the host of the specialized All4Wood event, will be a place where innovations from manufacturers of equipment and materials for woodworking and furniture will be available.
With the growth of the capacities of the wood industry, the countries of the Balkans have achieved significant results with a tendency for further growth in this area:
+50 billion euros of wood industry exports
+35 billion euros in furniture exports
4 million hectares under forest
Take the opportunity to find new suppliers of equipment for the production of furniture, carpentry, hardware and tools. This is an opportunity to compare the current offers of domestic and foreign manufacturers and suppliers and get new ideas for expanding the range of products and increasing the range of business contacts.
Blog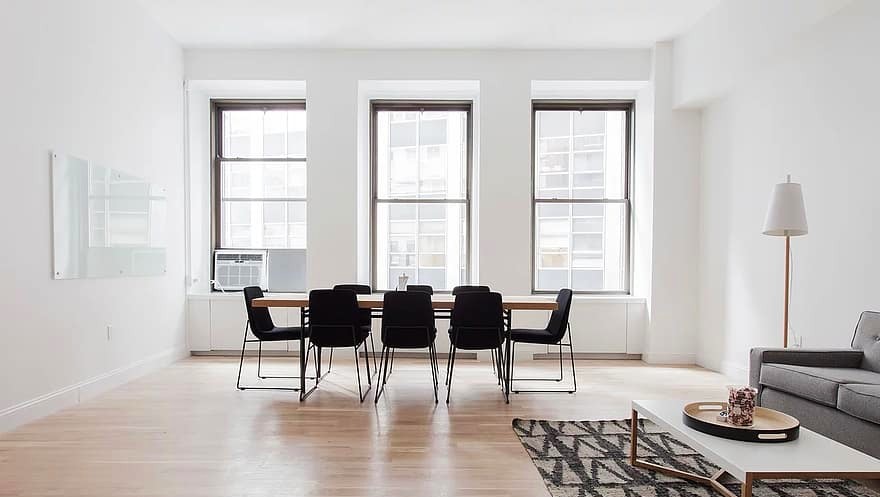 Energy efficiency of buildings
Energy efficiency of a construction facility implies the use of a smaller amount of energy to create optimal conditions for working and living, and that is when we are talking about energy efficient buildings. This further means that performing activities, that is, living and working in them, requires less energy consumption for heating or cooling, lighting and other needs for the residents' comfort.
Why should we take into account the energy efficiency of buildings at all?
Lower energy consumption can lead us to the principle of saving. However, when it comes to the energy efficiency of buildings, reducing energy consumption actually means improving existing buildings to the point where living and working in them is comfortable, while at the same time achieving a reduction in energy consumption.
In addition to creating better and better living conditions, the energy efficiency of buildings directly affects environmental protection and sustainability.
Harmful gas emissions caused by the burning of fossil fuels are proven to have an impact on climate change and the creation of extreme weather conditions. Most countries have committed themselves to a gradual reduction of CO2 emissions firstly until 2030, and then until 2050. The emissions reduction is planned to be achieved with two basic measures: energy rehabilitation of existing buildings and the transition from fossil fuels to renewable energy sources.
Residential and commercial buildings consume over 40% of our primary energy. They also account for over 72% of total electricity production and 55% of natural gas consumption. And most importantly, buildings are responsible for more than a third of total CO2 emissions.
How to make the building energy efficient?
When building new buildings, the principle of energy efficiency of buildings can be applied from the very beginning. There are modern building materials on the market that reduce energy consumption to maintain an optimal temperature, as well as technologically advanced devices and electrical materials that consume the minimal amout of energy for operation. In the case of preexisting buildings, rehabilitation and improvement is done with the aim of reducing energy consumption to the largest extent possible.
Replacing old and dilapidated windows and doors is one of the ways to adapt a building according to the principle of energy efficiency. Manufacturers of PVC and aluminum doors and windows constantly improve technologies in order to reduce heat loss and maintain the desired temperature inside the building.
In addition, a very important and efficient way to reduce energy consumption is thermal insulation of the building. Thermal insulation of an office building, residential building or house significantly contributes to the reduction of energy consumption needed for temperature control.
Furthermore, the improvement of energy efficiency in existing buildings can be achieved by replacing installations, installing solar panels, introducing heat pumps, but also by smaller changes changes such as replacing light bulbs and by purchasing economical, new home appliances that consume less electricity to perform the functions for which they are intended.
Initiative for energy efficiency in the Republic of Serbia
With the adoption of the National Sustainable Development Strategy of the Republic of Serbia in 2008, with the Action Plan for implementation; energy efficiency was established as a priority measure of this strategic framework. The First National Plan for Energy Efficiency of the RS was adopted in 2010, and since then the Republic of Serbia has been intensively working on the implementation of energy efficiency in accordance with Directive 2010/31/EU U of the European Parliament and the Council of May 19, 2010 on the energy efficiency of buildings.
In March 2017, the "Manual for energy certification of buildings (ESZ) – a guide for investors, contractors and designers" was published as one of the results of long-term cooperation between GIZ (Deutsche Gesellschaft für Internationale Zusammenarbeit) and the Ministry of Construction, Transport and Infrastructure of the Republic of Serbia .
You can learn more about the energy efficiency of buildings in Serbia, laws, rules and regulations at the link
Blog
What should you consider if you want energy efficient windows?
Improving the building's energy efficiency is one of the main reasons for replacing old windows. Energy-efficient windows not only make your home more comfortable year-round, but can also help reduce utility costs, saving you both energy and money.
When buying energy-efficient windows, keep in mind the points we'll talk about below.
A key component of any window is its glass. Choosing the right window glass, optimized for your climate and geographic area, can help reduce heating and cooling costs by slowing heat transfer. In double or triple glazing, inert gas argon can be used between the panes to improve insulating properties. Laminated, tempered, tinted and frosted insulating glass can also add UV protection to make your home more comfortable and energy efficient.
In addition to energy-efficient glass, keeping curtains, shades and blinds open on sunny winter days is another way to improve energy savings. While on cooler winter days, drawing the curtains can help insulate your home.
Proper installation of windows is also of great importance in preventing air infiltration into the interior of your home. If they are installed inadequately and unprofessionally, your windows may not work properly. Check the level, edge, slope, square, and opening to determine if your windows are installed correctly. A tightly sealed and properly installed window helps prevent air leaks and drafts, which can help reduce heat loss and increase the comfort of living in your home.
You can increase the energy efficiency of your window by choosing specific low-emission (Lov-E) glass coatings for different areas of your home. These are thermal protection layers inside the insulating glass which:
They repel the summer heat and retain internal cooling
They repel the winter cold and retain the internal heat
They block harmful UV rays
Geographical location and climate are important factors in determining the best energy efficient windows for a particular region. Depending on your region, during the winter, heating your home can be one of your biggest utility costs, and reducing your heating energy consumption can significantly lower your bill.
The choice of window frame material affects the overall energy efficiency of your window.
Wooden windows provide excellent insulation. Wood has low conductivity which means wooden window frames transfer less heat or cold into your home. Modern materials such as fiberglass enable significant energy savings because they have insulating properties similar to wood.
Multi-chamber vinyl window frames reduce heat loss for added energy efficiency – and are extremely easy to maintain. Multiple air-filled chambers have insulating properties.
Multi-chamber vinyl or combined profiles that have the option of additional foam filling also provide excellent thermal protection for your home.